Breguet to Unveil Vintage 'Monte Carlo Rally' Type XX at London Concours
Breguet is delighted to be supporting London Concours for the second year running with an exclusive showcase of the recently acquired Type XX 1957 wristwatch, alongside the exceptional Bugatti dashboard. It will be the first time the Breguet Type XX 1957 will be shown to a UK audience.
The "flyback" chronograph was donated to the winners of the 28th Monte Carlo Rally in 1959 by Esso who acquired the watch two years earlier on November 21st 1957. The piece bears the names of the winning drivers and also reveals that the name of the victorious vehicle, made by the famous French car manufacturer, Citroën. The London Concours offers guests a rare opportunity to see the watch, which testifies to the brilliant and remarkable diversification demonstrated by the Maison throughout its history.
The Maison Breguet began developing its first wrist chronographs in 1935. Twenty or so years later, it launched production of the Type XX in response to a commission from the French armed forces: the famous chronograph was to equip the French Air Force and French Fleet Air Arm from the early 1980s onwards. The Type XX 1957 is distinguished by a brushed steel case along with slightly curved lugs. This model also features a 38 mm case fitted with a screw-in back, as well as a graduated rotating bezel. It is equipped with a so-called 'tropical' dial that has acquired a beautifully homogenous patina. The originality of this model lies in the fact that it shares strong ties with motorsports.
In addition to the wristwatch, guests can view the dashboard chronograph No. 2023 made specifically for the brilliant car manufacture Ettore Bugatti, who was a faithful friend of the Maison. He commissioned the Maison at the beginning of the 1930s to create a chronograph featuring a tachymeter function that would be places in the middle of the steering wheel on his luxurious "Royale" cars. The Manufacture responded to his request by offering a range of timepieces that incorporated all the expertise acquired by the Maison since its foundation in 1775.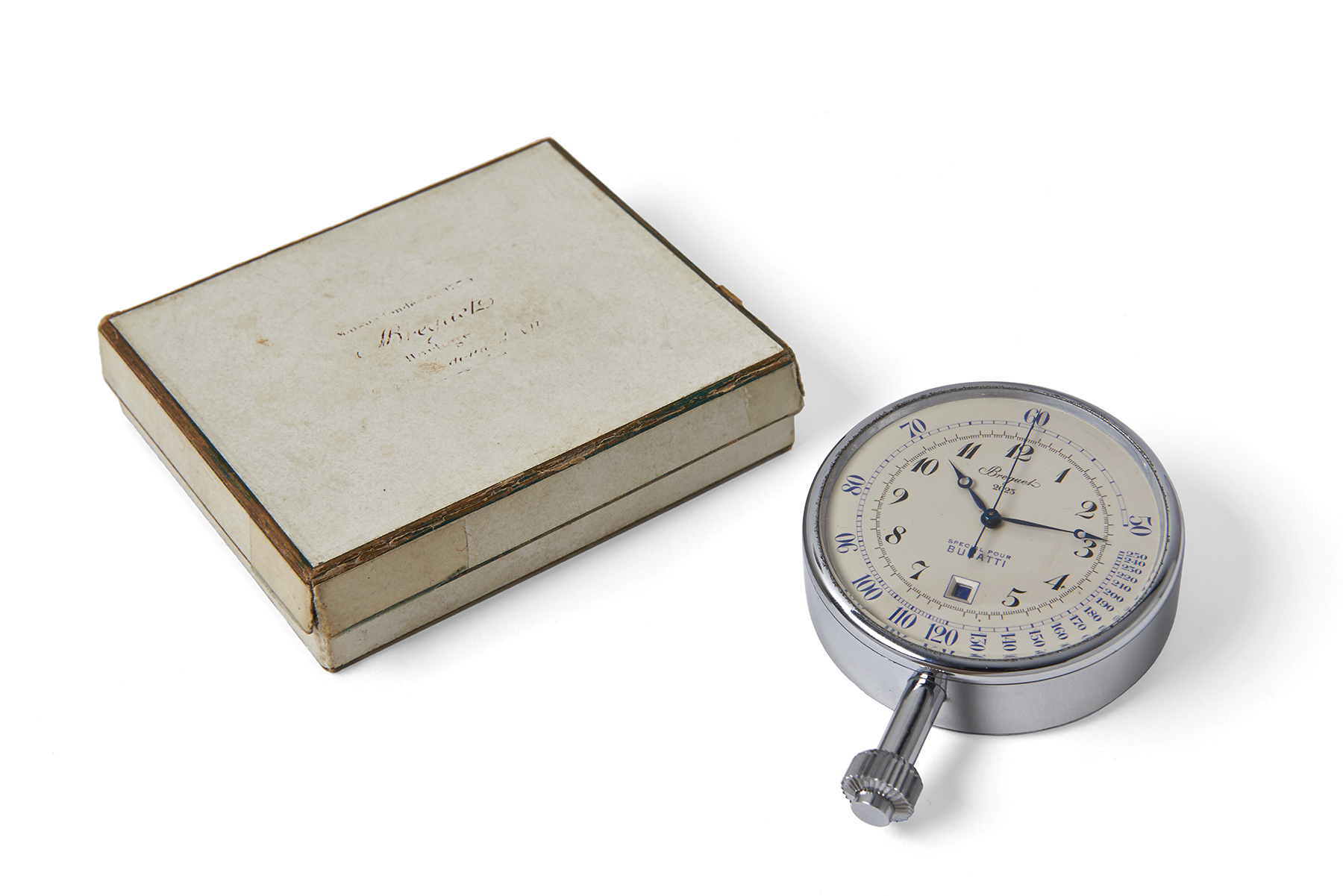 The piece, which was originally sold to Bugatti in 1932, belongs to a series of nine car timepieces that Breguet designed specifically for the brand. It's chrome-plated metal case measures 67 mm in diameter and houses a complication carefully chosen for the automotive industry: a tachymeter scale. Its cream dial, which bears the words "Spécial pour Bugatti", features the famous blued-steel Breguet hands that were designed in 1783. Chronograph No. 2023 also has a cumulative minutes counter visible in an aperture at 6 o'clock. The timepiece is powered by a mechanical movement with a power reserve of eight days, which is wound using a crown located at 6 o'clock. This exceptional creation was sold in its original box.
Breguet will showcase the exclusive antique pieces alongside the current collection at London Concours, Thursday 7th and Friday 8th June.
30 May, 2018