Breguet and the Royals
From iconic blue Breguet-hands to famous blue blooded clients
Abraham-Louis Breguet is regarded royalty in the world of horology, but it was his innovative and exceptionally handcrafted timepieces, that earned him a legion of royal clients.
Establishing his brand in the city of Paris in 1775, during a period of enlightenment, Abraham-Louis Breguet wooed the French Court and members of Parisian high society with an abundance of break-through inventions. Attracting the attention of King Louis XVI, Breguet became watchmaker to the royals, producing several timepieces for the King and Queen, including the most complicated watch ever made for Marie-Antoinette. Some years later, Napoleon Bonaparte became a client, and in addition, his sister Caroline Murat, later to be Queen of Naples, boasted a collection of nearly thirty-four timepieces from the watchmaker.
Despite the French Revolution, Abraham-Louis Breguet continued to attract an elite clientele from across Europe and beyond, including England, Spain and Russia. In fact it was during this time, revealed by the sales records that the watchmaker received an order from King George III of England.

The monarch was a keen horologist and enthusiast for the sciences, which may have led him to discover Abraham-Louis Breguet's ultimate invention, the Tourbillon. The King's pocket watch, No. 1297 has recently come to fame, following a government bar on its deportation from the UK. His son, George IV placed subsequent orders including a double pendulum clock, another Tourbillon and a Sympathique (synchronising) clock. Despite, the loss of Abraham-Louis Breguet, the House continued to attract the attention of the elites and royal families. In 1838, Queen Victoria of England purchased a Breguet watch, intended for a ring. Some years later, The Duke of Windsor (Prince Edward, the former King Edward VIII) also purchased a watch, and the relationship with the English monarch remains; in 2008, Breguet presented Prince Charles with an engraved wristwatch to commemorate his 60th birthday.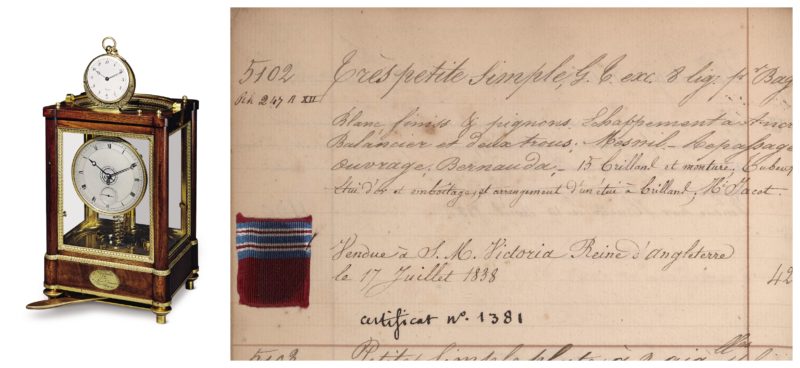 Today, a number of timepieces acquired by these rulers and famous personalities are preserved in some of the world's most acclaimed museums, including the Louvre Museum, the British Museum, the V&A, the Science Museum and within the Royal Collections at Buckingham Palace as well as several Swiss museums, and, of course, the Breguet Museum in Paris. Discover the illustrious history of Breguet and the timepieces that inspired the collections today here.
8 March, 2021