The Cars that Built Land Rover, Sponsored by Land Rover Classic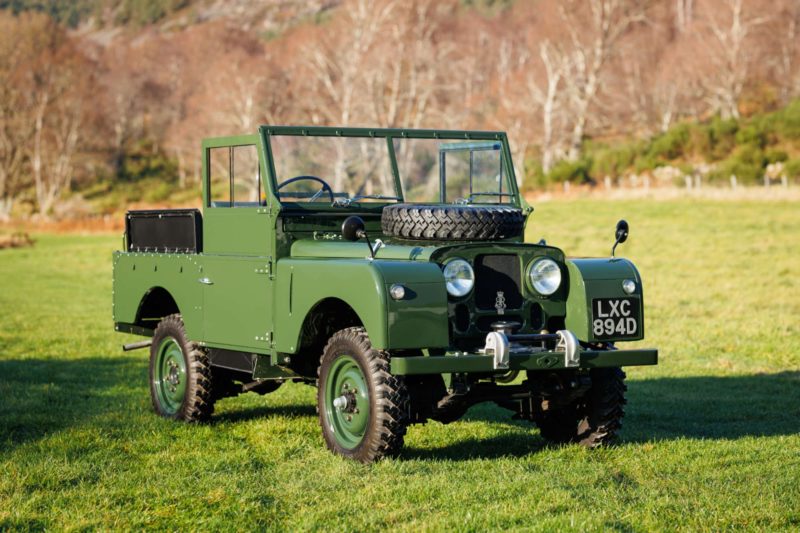 The London Concours, presented by Montres Breguet, is delighted to announce a thrilling new class – sponsored by Land Rover Classic – that will celebrate classic Land Rovers. The category, The Cars That Built Land Rover, will showcase some of the legendary, go-anywhere models from the Forties, Fifties and Sixties that helped establish the brand as one of the most recognisable and respected in the world.
These timeless machines will join nearly 100 spectacular privately owned cars in the beautiful grounds of the Honourable Artillery Company, from June 6th-8th, at what is destined to be London's greatest automotive garden party yet.
The class vividly illustrates the remarkable journey Land Rover has embarked on over the past seven decades, evolving from a purveyor of rugged workhorses into a true global luxury powerhouse. And nowhere is that more evident than with the Land Rover Pre Production L07, which is set to star at the show. The L07 was one of the first vehicles to introduce company founder Maurice Wilks' vision of a British utility 4×4 to the world when it was revealed at the 1948 Amsterdam Motor Show, where it was used to provide demonstration drives for visitors. This absolutely stunning Series I has lived an extraordinary life, vanishing for decades before being discovered in a garden in 2016 near the Solihull factory where it was originally built. Now impeccably restored, it stands proud as a piece of genuine motoring history, and is sure to be one of the most popular exhibits at this year's Concours.
Joining it will be an early Series I that thoroughly underlined the off-road credentials of the early Land Rover models by participating in a Trans-Africa challenge undertaken by teams from Oxford and Cambridge Universities in 1954. The 86" Station Wagon proved its pedigree by successfully taking on a journey in excess of more than 25,000 miles which twisted its way from North Africa to Cape Town and back again, negotiating an array of countries that presented different, challenging conditions, as well as the hostile terrain of the Sahara Desert. Although Oxford was the first team home in the expedition, arguably the real winner was the Series I, which demonstrated its toughness in the most forbidding of environments.
Also on display will be another Series I from the early Fifties that enjoyed a more rarefied existence in the hands of the Royal Family. The Series 86" SW, built in 1953 and registered in 1954, became a firm favourite of Queen Elizabeth II, who had it delivered to her estate in Balmoral, Aberdeenshire and enjoyed driving it across the grounds with Prince Philip, the Duke of Edinburgh. Sold on to a private buyer in 1966, it fell into disrepair but has subsequently been immaculately restored, to the extent it played a leading role in the Queen's Platinum Jubilee Pageant in 2022. Visitors are sure to relish the chance to get close to a car that served Her Majesty with such distinction.
Lining up alongside these Series I models will be a 1965 Series II that also enjoyed distinguished ownership in the hands of Spencer Wilks, who co-founded Land Rover with brother Maurice and enjoyed an illustrious career at the helm of the Rover Company as managing director, chairman and president. Wilks used the S2A 88" when he stayed on Islay in Argyllshire – often used as a testing ground for Land Rover in the company's early days – and it must have made quite an impression on the Hebridean isle with its striking grey paint and limestone-coloured wheels and roof. Its appearance at the London Concours offers visitors a fantasticopportunity to see the subtle differences that marked out the Series II from its glorious predecessors.
One car on home territory at the event will be the Honourable Artillery Company's very own Defender 90 Wolf, a machine that expertly demonstrates how Land Rover also became a trusted producer of light military vehicles. First released in 1998 and as strong and durable as you would expect, the Wolf became a familiar sight on TV news reports from Afghanistan and Iraq, where it was used widely by British forces for patrol duties. Its imperious ruggedness and robustness are emphasised b
y the fact there are still many Wolfs excelling in military service across the world.
The Cars That Built Land Rover class is just one of a number of sensational categories at June's event, which will feature a mouthwatering range of machinery from a range of exotic marques.
9 May, 2023